Check to Make Sure Your Stylist Is Licensed
Breakin' the Law: Is Your Stylist Actually Licensed?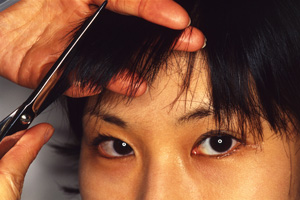 Just as you wouldn't go to a doctor who doesn't have the proper credentials, you probably wouldn't want to make a visit to a stylist without the proper licensing. While it's hard to believe, there are plenty of unlicensed hairstylists out there causing all sorts of problems.
In fact, during a recent surprise visit of salons in Miami, CBS News discovered that one-third of the six establishments visited had infractions of the unlicensed sort. Kristy Picornell, a victim of a stylist without a license, was left with chemical burns, a horrific shade of yellow-orange hair, and awful extensions. "The salon apparently used a super glue bonding rather than a bonding solution used for extensions," she said. Scary stuff. While Picornell was fortunate that she did not suffer permanent damage, she ended up suing the salon and winning her case.
Don't want spaghetti strands yourself? The best way to avoid potential hazards is to ask to see your stylist's license (which, according to individual state laws, should be prominently displayed anyway), or simply verify the license through your state's board of cosmetology either online or by phone.