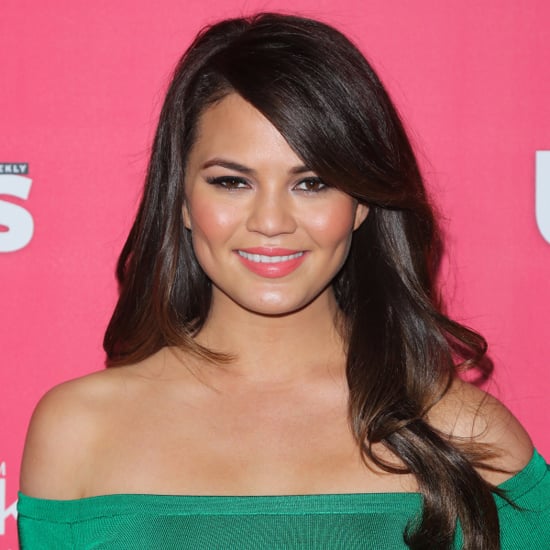 Chrissy Teigen isn't like the other models you might have heard about. First of all, she loves fried chicken and rarely washes her face. But the fact that she doesn't fit the typical model bill is one of our favorite things about her, especially her knack for hilarious commentary on Twitter. And no one can deny that whatever she's doing yields beautiful results. "Less really is more. I feel uncomfortable if I go too far outside the box," she told us in an interview. "So do what makes you feel beautiful and it all works out," she says. Find out more beauty tidbits the Gillette Venus spokeswoman had to share, from the product fiancé John Legend borrows, her bridal beauty plans, and the makeup technique she lifted from Kim Kardashian when you read our interview.
On her bridal beauty plan:
Chrissy is actually very relaxed when it comes to her impending nuptials, and her beauty plan is far removed from that of a bridezilla. For her hair, "I think I'll do something messy and up and very romantic and feminine with some flowers or something," she reveals. "The makeup isn't going to be very extravagant at all — natural for me."
On her off-duty beauty:
While Chrissy always appears glamorous in front of the camera, at home she struggles with the styling. "I'm horrible with hair," she says. "I've thought about going to hair school to learn how to do my own blowout!" On most days off, she'll regularly turn to a basic topknot for a quick, easy look. "If you see my hair down, it means I didn't do it," she quips.
A future career as a hairstylist may be out of the question for Chrissy, but her future as a makeup artist is promising. "I'm very into contouring now. I saw Kim Kardashian's contouring photos on Instagram. It excites me!" she says. "It really does change your face. You can have a nose job with contouring." You can also find Guerlain blush, Aquaphor lip balm, drugstore strip lashes, and Maybelline Great Lash Mascara in her makeup kit, alongside a Lancôme bronzer (a contouring must have).
On skin care:
When it comes to skin care, Chrissy sticks to a low-maintenance routine of exfoliating, moisturizing, and shaving. "My skin is on display more than anything else," she says. "I used to get a ton of facials and I realized it was drying me out. If I have a huge shoot the next day, that's the only time I'm washing my face, really. The worst thing you can do for sensitive skin is overdo it."
Although her daily routine may be simple, she doesn't mind investing in a good product, such as Natura Bisse Diamond Cream ($285). "I feel like I'll save money in the long run because I won't be Botoxing as often in the future," she says. "But the worst is when I see John used it, and left the cap open!"
On modeling:
"There are a lot of misconceptions about modeling. They think everyone is chain smoking and on these crazy cleanses all the time, but models are truly healthy people," Chrissy says. She also confesses that while many of her counterparts go to extremes with yoga, Pilates, juices, and wheatgrass shots, she allows herself some wiggle room. "For instance, tonight I'm going to eat fried chicken. Food is so important to me. For some models it's just body fuel, but for me it's about being happy."