Christina Hendricks on Make-A-Wish, Latisse, and the Emmys
Interview: Christina Hendricks on Make-A-Wish, the Emmys, Latisse, and More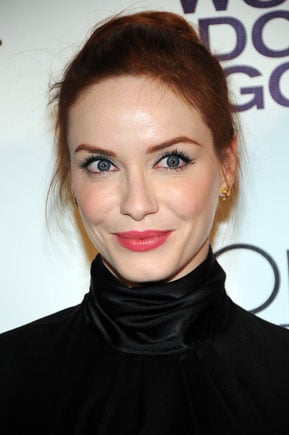 Christina Hendricks may be nominated for an Emmy in the outstanding supporting actress in a drama series category, but this year she's making it even more of a special event. She'll be attending the festivities on Sunday escorting 17-year-old David, a participant in the Make-A-Wish Foundation.
Make-A-Wish and Latisse (for which Christina is a spokeswoman), have partnered in hopes to raise $500,000 for the charitable organization. Christina explains, "I'm encouraging people to go to latissewisheschallenge.com because for every donation of $20 or more, Latisse will match it, and it will go toward the Make-A-Wish Foundation so we can grant more wishes."
She adds, "We're trying to grant a wish in every chapter across the US. And also if you donate $20 you'll get your first month of Latisse for free — which is an added bonus." To see more of our one-on-one interview with Christina, who talks further about her involvement with Make-A-Wish, her day-of Emmys plans, and more, just keep reading.
BellaSugar: Tell me how you got involved with Latisse.
Christina Hendricks: I got involved with them because they came to me and asked me if I was interested in being an ambassador in the Make-A-Wish Foundation. When I was a little girl, a girl in my elementary school was involved with them. She had a life-threatening illness and got involved with the Make-A-Wish Foundation, and her wish was to meet Erik Estrada from CHiPs. So I remember as a really young child thinking, "Oh, that's so cool that someone is doing this for her." You know, these kids are having to deal with these really adult situations, and these really traumatic situations, and they just want to be kids. You think, "God, I can't believe they have to go through this." So an organization like Make-A-Wish that puts a smile on their face and reminds them that they're kids is really something to be a part of, I think.
BS: Most definitely. Switching gears for a moment, tell me how it's been for you using Latisse. Did you have any apprehensions about using it?
CH: Well, I'm a person that asks a million questions before I do anything, so I did go to my doctor and I spoke to him about it, and wanted all the info I could get on it. And after I talked to him I felt really comfortable using it, and I've been incredibly happy and comfortable with my results. But I would encourage you to go and talk to your doctor so you felt confident about your choice. It is a medical product so you should be educated on it.
BS: How will you get ready for the Emmys?
CH: I sort of have my routine. My girlfriends come over; my mom comes over. People bring food and everyone visits, and they send me off. This year I'm going with my husband and David, and my father's coming. It's going to be a special night, and the show is nominated, and that's always exciting. It's going to be really fun to see the Emmys through David's eyes and my family's eyes since it's their first time and it is sort of a grand spectacle.
BS: What's your favorite part about working on Mad Men?
CH: One of my favorite parts about working there is the family that we've all created with one another. The crew and all the actors, we've worked together for five years now, so they really feel like family. It's really nice to go to work every day and feel comfortable and confident and that you know everyone and feel happy there, because that's not something you get all the time at work.
BS: Speaking of Mad Men, what are some of your makeup tips you've picked up along the way on set?
CH: I've watched them do a very simple, natural makeup really well. I think I've learned from the powers of makeup what is a nice, natural look.
BS: Of course you have that signature winged-out eyeliner look that everyone loves.
CH: Yes, of course. All of us '60s ladies love that. But I liked that even before I started the show, so it's kind of nice for me because I get to wear what I already like.