Claro Acne Device Review
Claro's Acne Treatment Device Zaps Pimples in a Flash (Literally)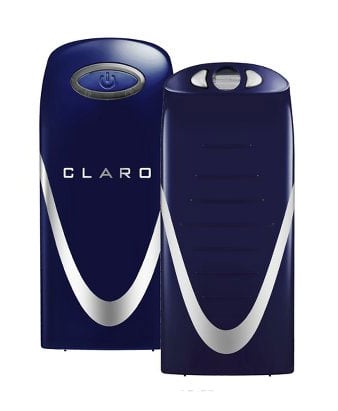 There are several pimple-zapping devices on the market (such as Zeno and Thermaclear), but what differentiates Claro ($195) from many is that it uses a combination of three treatments to speed up healing time. Blue light attacks P. acnes bacteria, aka the germs that cause acne, red light works to help reduce redness and soreness, and infrared energy supplies heat to enhance the treatment. Full disclosure: the folks at Claro sent me the device for review.
Claro is only meant for inflammatory acne of the mild to moderate variety, making it perfect for occasional breakouts — especially the time-of-the-month kind. It's not designed to — bam! — get rid of pimples in an instant, but after my initial use, I did see results the next day. Pimples were less red, less noticeable, and healed much faster. So to see more pros (and even some cons), just keep reading.
How to use it: After an initial wall outlet charge, Claro is good to go. All you have to do is treat each pimple twice by touching the device right to the pimple for six seconds, followed by the same exact procedure right after. (See a video of it in use here.) It's all timed out for you with beeping indicators, so there's no need to count one Mississippi, two Mississippi style. Note: to avoid problems such as burning or blistering, it's recommended that you wait eight hours in between each full treatment, and do not treat the same spot more than four complete times over the course of seven days.
Cons: With all of its beeping, Claro is definitely not a quiet device. And because it's also a heated device, it definitely needs time for cooling off. You'll wait 60 seconds in between each complete zapping, and after four complete zappings, you'll have to wait three minutes in between. Read: if you're treating multiple pimples, it may take you a bit to finish. One other thing to note is that after significant use (around 400 or more shots), the entire unit needs to be replaced, so while it may last you quite awhile, it won't last you forever.
Pros: The battery lasts and lasts, the heat sensation feels nice on the skin, and the device is very easy to use. While it's not cheap, I was impressed by the fact that it provides a painless, nonmessy alternative to other acne treatment options. Pimples disappeared more quickly, and dark spots typically associated with their presence did not linger. Most of all, I was very happy with the fact that I was able to spot-treat pimples without having to use drugs and/or sheet-bleaching creams.