Clinique Even Better Skin Tone Correcting SPF 20 Moisturizer Review
Clinique's New Moisturizer Is Even Better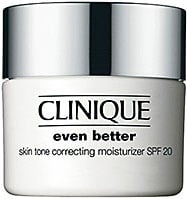 I'm pretty suspicious of skin-tone-evening agents, especially since they tend to be nothing more than traditional skin bleachers like hydroquinone that may have harmful side effects. Clinique Even Better Skin Tone Correcting SPF 20 Moisturizer ($42), however, substitutes acids, caffeine, and yeast extract for the usual suspects. Huzzah!
This product is definitely a tone evener, not a lightener, so I haven't gotten any of the blotchiness that can sometimes occur with skin bleach. I can also say that after using it on my arms and hands every day for the past five weeks, the skin is genuinely more even-toned, with my freckles and other pigmentation faded, though certainly not invisible. It's also lightweight and absorbs nicely, and I do appreciate the wide-spectrum SPF — although I think it needs to be higher than 20 to provide long-term protection.
I was afraid to use this on my face since it has sensitizing (but effective) hyaluronic and salicylic acids in it, so I'd suggest you patch-test before you give it a go. Overall, though, a nice product for the money if you have issues with light hyperpigmentation or patchiness and don't want to go under the laser.