Colorful Eye Makeup
5 Ways to Add a Pop of Color to Your Eyes, Subtly . . . or Not!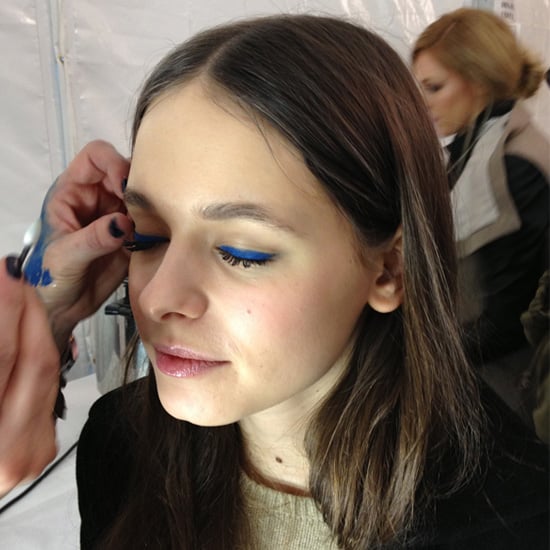 Alexis Wolfer, author of the popular blog The Beauty Bean, is partnering with POPSUGAR Beauty to bring you her favorite trends, beauty tips, and how-tos in a series of nine posts.

Taking your eye makeup from basic to bold can make you feel like you're towing an eyeliner-thin line between trendy and tacky, which, well, you kind of are.
Sure, bright blue eyeliner and strongly winged cat eyes have been spotted on models and celebrities, but when it comes to taking the look from runway to real-way, blue eye makeup can feel better suited for an '80s themed costume party than a night out with your girlfriends
With these tips, though, you can dare to try bold new eyeliner trends, confidently and, yes, even subtly.
Inner Pop Add a pop of colored eyeliner to the inside corner of your eye. Experiment with the boldness of the hue and how far you push the color line. Make sure you stick to the inside waterline of your lids, apply color to the inner most corner of your eye, and apply color evenly on the top and bottom for a cohesive look. Otherwise, have fun and experiment! For those of you a bit color-scared, start with a sheer gold liner, which you can smudge out to look like luminizer, and work your way up to a pop of sunshine yellow.
Bold Undertones For a more subtle take on colored eyeliner, apply a bright eyeliner to either your upper or lower lashline (or both!) and then draw over the colored line with your go-to black eyeliner. The color will peak through your black liner for a barely there pop of color. Play with jewel tones, like emerald green, sapphire blue and royal purple, to keep the color richly subtle.
Keep reading for more tips!
Go Deep, Go Long If colored eyeliner isn't your thing, try experimenting with the thickness and length of your usual black liner. Whether you try a thick line of liquid liner on your upper lid, smudge out kohl along your lower lid or pull your eyeliner out for a cat-eye effect, altering the thickness and length of your eyeliner will add a whole new dimension to your makeup routine.
Flirt With Fringe Colored eyeliner may be ruling the runways, but for a less bold take on the colored eye makeup trend, play with colored mascara. Apply two coats of black mascara and let them dry before applying just a touch of colored mascara to the tips of your upper lashes. For a bolder look, try pastel shades that will really pop against your black liner or, for a more subtle look, look for dark blues and purples that will blend into the black more seamlessly.
Smudge It Out Apply a thin layer of a dark colored eyeliner (try a deep navy blue) to your upper lashline and use a smudge brush to gently blend the color onto your lid. The effect is a shadow meets liner blend, which you can play with to alter the density of the color. Feeling color-scared? Start by mixing your color of choice with black and smudge out only the outer corner of your eye for a delicate addition of color to your typical smoky eye.
Photo: Alexis Wolfer