Comb + Short Hair + Blow-Dryer = No-Pouf Results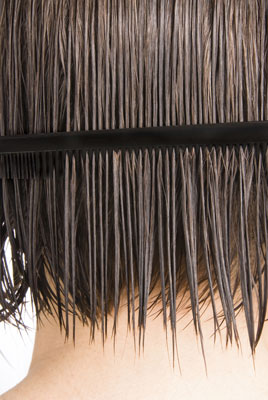 In the past, we've talked all about the various types of hairbrushes and we've talked all about bristles, but one basic tool I've neglected to mention as a hairstyling necessity is the ubiquitous comb.
If you've got shorter hair like me (dark-haired Bella), perhaps you find that when you blow-dry your locks, the combination of a styling brush and heat makes your tresses pouf out, resulting in what can only be described as mushroom head. Or perhaps you've got longer hair, and you still get the same ballooned-out effect. Whatever the case, enter . . . the comb.
Once your hair is about 80 percent dry, simply bust out a basic comb for your styling tool. Using the shape of your head as a guide, sweep the comb through your hair, focusing on keeping the hair flat to your scalp. Follow behind with a nozzle attachment on your blow-dryer until your hair is completely dry. This technique allows you to still have lots of body and movement, but gives you a little more control.