Come Back For Our Screen Actors Guild Awards Polls Tonight!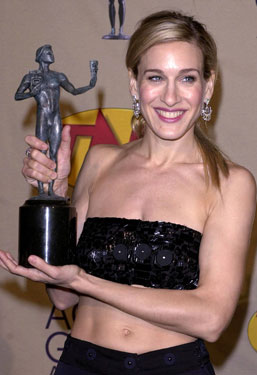 Continuing on with our 2010 award season coverage, tonight we celebrate the Screen Actors Guild Awards. Considered a precursor to the Oscars, the SAG Awards is the show that features actors awarding other actors. (Like Sarah Jessica Parker, for instance, pictured here in 2001 after her win for Outstanding Performance by a Female Actor in Sex and the City.)
So be sure to stay tuned tonight, and stop right back here on Bella around 4 p.m. PST. You know the drill. We'll be doing the live blogging, and you'll be doing the voting on the various beauty looks the stars will be wearing on the red carpet. Who are you most excited to see?