Comparing Benefit Eyecon to New Benefit It's Potent Eye Cream
Benefit's New Eye Cream Is a Worthy Successor to Eyecon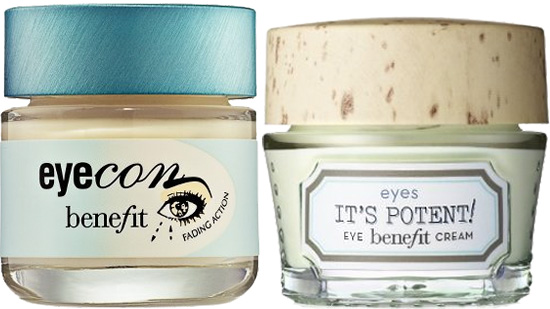 I've long been a fan of Benefit Eyecon ($30), because it really does a good job of de-puffing and brightening up under eyes. Now though, it's being discontinued and Benefit is premiering a totally different set of skin care. The new line, B.right, has its own eye cream called It's Potent ($32). Since I have a jar of both creams, I decided to compare and see how the new product measures up. So should you be worried about finding a replacement for Eyecon? No, and here's why.
I think Eyecon fans should be happy to give It's Potent a try for several reasons. It's Potent is supposed to do most of the same things Eyecon did: de-puff, brighten, and help with dark circles. Both products are also light, don't have an irritating fragrance, and work very similarly. Even the textures are much the same.
The only big difference I've spotted is the color. Eyecon is an ecru shade, while It's Potent is white. So if you're worried about losing your favorite eye cream, don't be. Before you go stock up on tons of Eyecon, give It's Potent a try. Eye don't think you'll be disappointed.