Constance Jablonski Interview
Model Constance Jablonski Talks About Her Big New Contract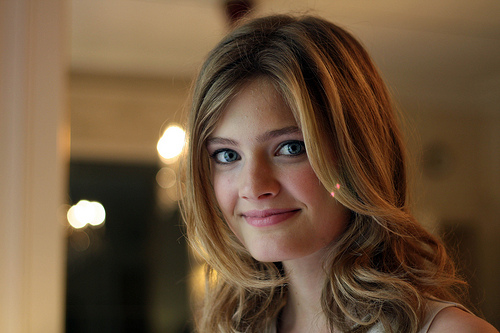 Most models work for many years in hopes of landing a cosmetics contract, but Constance Jablonski has defied the odds. After only two years of modeling, the 19-year-old has become Estée Lauder's first French brand ambassador, joining the ranks of superstars like Hilary Rhoda and Elizabeth Hurley. After meeting her at the Plaza Athénée in Paris, it's easy to see why she's having an amazing career. Yes, she's gorgeous, but she's also lovely, intelligent, charming, and grateful for the opportunities that have come her way. For the first part of our interview, in which Constance talks about her new role and her secret to great skin, keep reading.
BellaSugar: What excites you most about working with Estée Lauder?
Constance Jablonski: Everything. From being with such a big company around the world to representing a brand that I really like — very chic and elegant. I had a chance to meet Aerin Lauder, the granddaughter of Estée Lauder, and I was honored to talk to her. Estée Lauder is like a big family. They're really connected and super nice people to work with.
BS: Do you have a favorite product from the brand?
CJ: I was addicted to the fragrance Bronze Goddess before I even was working with them. It's my fragrance. My mother and my grandmother also have products from Estée Lauder, so I've known them for a very long time.
BS: Growing up, what did you learn from your mother and grandmother about taking care of your skin?
CJ: It's actually funny because it's more my father. He's a dermatologist.
BS: Ah, that's why you have such pretty skin.
CJ: Thank you. Ever since I was a little girl, he would tell me how to take care of my skin. He would show me pictures of skin cancer and tell me to never go under the sun. He was really, really tough about that stuff. He taught me to use sun protection: SPF 50 for the face and 15 for the body. I will never go in the sun without sunscreen.
BS: It's silly, but I always wonder this about really beautiful women: do you have days where you wake up and look in the mirror and think, "Uh-oh, it's not looking good today," or do you wake up and always feel gorgeous?
CJ: [laughs] No, of course not. Maybe if I don't have enough sleep I wake up and go, "Oh la la, today's going to be a hard day." I'm like everybody else.
BS: What do you do on days like that? Do you have any tricks when you feel tired that make you look or feel more awake?
CJ: Good orange juice, good espresso, and trying to get as much sleep as I can.
BS: Are you able to get much sleep, considering your job?
CJ: Yeah, actually. I have to say, I am a good sleeper. I have no problem sleeping on the plane, I'm not really confused by jet lag. Like yesterday, I just came from LA and right now it's supposed to be night! [The plane left at] seven and I couldn't sleep, but at the end I had a super good night's sleep.
Come back tomorrow for more from Constance, including her thoughts on fashion and family.