Cosmetic Companies Currently Donating to Charities
More Ways to Get Pretty and Give Back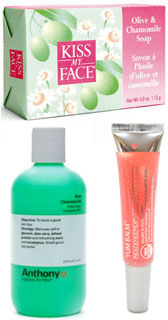 It's always nice when companies decide to donate to good causes, and even better when several do it at once. This week, we found three charity products to love.
Help oily birds: Fifty percent of all proceeds from Anthony Logistics Body Cleansing Gels ($16.50) and Shampoos ($16) is going to Tri-State Bird Rescue and Research to support wildlife rescue efforts in Louisiana. Plus, Anthony already donates a percentage of all its proceeds to charities for prostate cancer, leukemia, and lymphoma research.
Peace in the Middle East: Kiss My Face fans can join in the brand's "Pledge For Peace" campaign right now — for every 10,000 pledges made on its Facebook page or website, the company will send a camper to Seeds of Peace, a Summer camp for Israeli and Palestinian children.
Human rights? All right: PeaceKeeper Cause-Metics has new 95 percent USDA certified organic Yum Balms ($8), part of the proceeds of which go to charities that help women living in extremely impoverished conditions. The company also gets its ingredients from small farmers in the United States and India, and gives micro-credit loans to them.