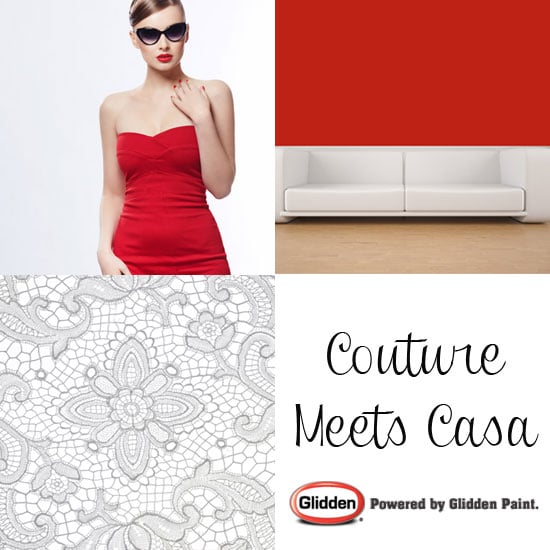 There's a reason so many of your favorite fashion designers also have eponymous home decor lines. Great style is universal, so why shouldn't the latest trends be as welcome in your living room as they are in your closet?
If you're looking to put a fresh spin on a tired spot in your home, look no further than the runway for some of-the-moment inspiration. This second installment of the Couture Meets Casa series, from Glidden®, shows you how to incorporate more of the season's hottest trends into your living space.
It Color: Red
Trend Focus: Lace
It's not all doilies and curtains; lace is looking more modern every day — especially in home decor, where it takes on a structured feel (think latticework patterns and geometric cutouts) that best shows up against an intense backdrop.
Since the Fall 2013 runways were ablaze with fiery reds, we'd suggest at least one red accent wall (or an entire room, if your space can handle it) to incorporate both trends into your home decor right now.
Bring It Home: We love the showstopping look of walls painted in Glidden's Red Geranium. Add delicate elegance and welcome contrast with white lace-inspired pieces, like a lattice room divider, a Moroccan-patterned headboard, and perforated pendant lighting.
For a lace-overlay effect on red walls that's both classic and contemporary, try white stencils or decals in damask or scroll patterns, or laser-cut framework, either on their own or surrounding a mirror or piece of art.
Visit Glidden.com to take a closer look at its red paint selection, find coordinating colors, and get more inspiration for your next home decorating project.