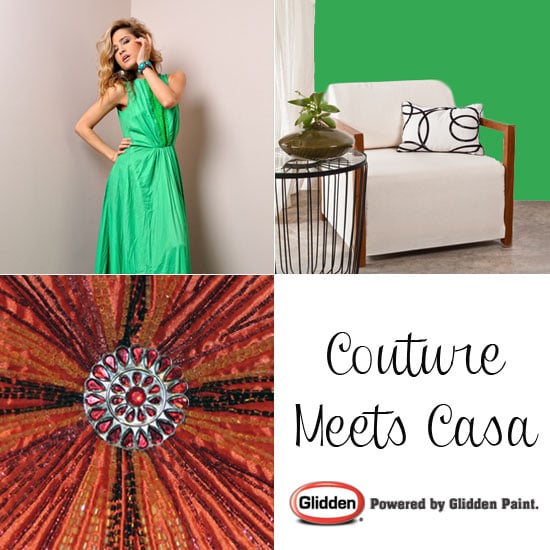 Style isn't just a way of dressing — it's a manner of living, so it's no surprise that the same trends found on the fashion runway eventually make their way into your home decor.
Not sure how to bring Fall's hottest looks to life in your house, apartment, or office space? This final installment of the Couture Meets Casa series, from Glidden®, offers some easy inspiration.
It Color: Emerald
Trend Focus: Jewel tones
Fashion's love affair with opulent gem tones isn't over yet, especially since emerald made headlines this spring as Color of the Year. The trend is all about drama and vibrance, so instead of stopping at one color, we say embrace the rest of the dazzling range, from ruby red to cool sapphire to bright citrine.
Bring It Home: Give a large room a more intimate feel with a rich emerald paint like Glidden's Forest Green. (Try it in a smaller space, like a bathroom, with an accent wall over the sink, supported by complementary hues like Warm Caramel and Antique Beige.)
To keep your space from looking stuffy or overly formal, stick with mostly neutral-colored furniture (gray and tan seating or cherry-wood tables) that acts as a base for accents in hues like amethyst, topaz, or aquamarine. One way to lighten up the atmosphere is with a single whimsical pattern or funky piece — a zebra-print rug on the floor, a white faux-fur throw over the couch, or a polka-dot duvet on the bed. Just limit this technique to one or two items at most; you want to wink at the opulence of your color scheme, not overshadow it.
The ombré trend is also highly recommended when you're working with jewel tones: the fadeaway effect perfectly showcases the depth and intensity of your colors. Try assembling similarly hued pillows from lightest to darkest (start with pink, and work your way to deep purple), or create a tablescape arrangement featuring varying sizes of dip-dyed glassware.
Visit Glidden.com to take a closer look at its green paint selection or to get inspired by other colors or moods.