Crimpin' Ain't Easy (or Is It?)
Crimpin' Ain't Easy (or Is It?)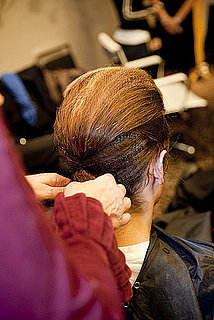 It's been a long time since crimped hair was in style, but I'm going to go out on a limb here and say that it may be time to reconsider the crimping iron. Here's why.
The centerpiece of Global Green USA's Gorgeous & Green Benefit in San Francisco was an eco-friendly fashion show. Backstage, stylists from Pureology created cool pompadour-insipred updos and chignons. By using differently sized crimping irons, they created unexpected and edgy textures that felt contemporary.
While I'm not ready to welcome traditional crimping irons into my life, the smaller textures could work for a night out. The show's lead stylist, Natasha Sunshine, used the Sam Villa Signature Series Textur Iron to create the smaller crimps. For the show, they were used all over; for real life, crimping an inch-wide strip would be enough to create interest. Would you do it, or is crimping one of those things that you can't imagine bringing back?