Cute Kabuki Makeup Brushes
Cute Kabukis: 5 Reasons You'll Want to Go Buff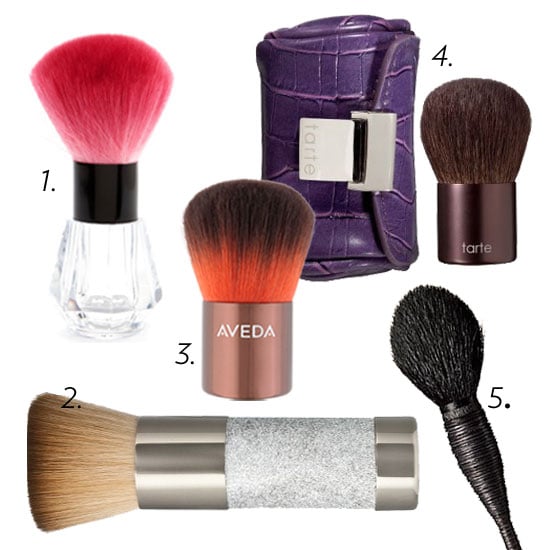 For a truly flawless makeup finish, you might want to think about going buff — using a buffing brush, that is. The kabuki brush, designed to cover larger surface areas, allows you to dust powder onto the face and body quickly and easily, thanks to its densely packed bristles. To use, dip the brush into your chosen powder, tap to remove excess, and swirl onto the face for a uniform, even finish. And for some very kawaii kabuki options, check out the list below:
1.) Charlotte Russe glam pink powder brush ($11) — Love a piece that will look glamorous on your vanity table? With its faceted crystal handle and pink, domed top, this kabuki is a mini work of art.
2.) Sonia Kashuk silver holiday kabuki ($12) — It's a limited-edition brush from her holiday line at Target, but this shimmery makeup tool will look great no matter the time of year.
3.) Aveda Uruku bronzing brush ($40) — With its striking red-orange bristles (inspired by the pigments in the urukum plant), 25 percent PCR aluminum handle, and anaconda snake-patterned pouch it comes packaged in, what's not to love about this eco-friendly offering?
4.) Tarte Glam on the Go ($29) — Speaking of cool packaging, here's a buffer brush that is housed in a faux-crocodile case that's perfect for all your on-the-go kabuki needs.
5.) Nars kabuki artisan brush in #27 Yachiyo ($50) — This brush is craftsmanship at its finest. The handle is hand-spun with black wisteria, and the tapered spiral dome head makes gliding along smaller, curved corners all the more swift.