DIY Nail Art Book by Madeline Poole
A Professional Nail Artist Spills Her Secrets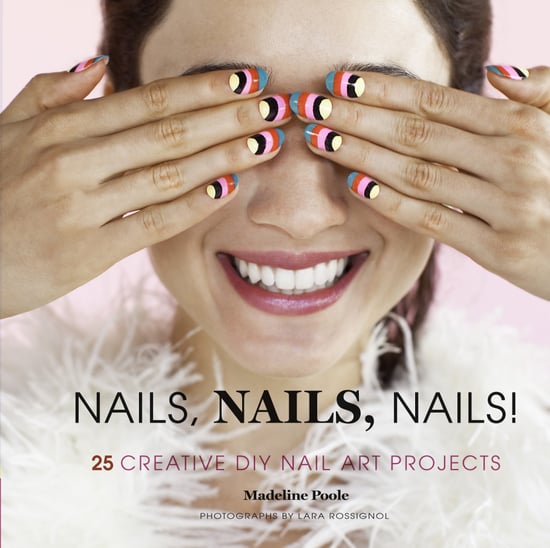 There are plenty of books out there on how to do your makeup, but there aren't too many relevant nail art books that capture the current trends until now. LA-based nail artist Madeline Poole (her work has been featured in Teen Vogue, The New York Times, and Nylon) is bringing her contemporary designs to the masses with her new book, Nails, Nails, Nails!: 25 Creative DIY Nail Art Projects ($8, available for preorder on Amazon.com). Take a peek inside the book, and see what she has to say on the nail art craze and her new publication, when you read more.
Why do you think nail art is such a huge trend right now?
Madeline Poole: I think nails have always been relevant, but there's so much more exposure now because of the various social media platforms to share images and techniques and products.
Are there trends you're seeing within the nail art craze?
MP: Well there's the gradient, there's the outline, always the half-moon, and the matte top coat. These are my favorites. I don't know what is trending, but for me I'm always erring on the side of simplicity.
 
What tools do you reach for most to create your designs?
MP: I'm often using tools from other fields. I'll use detailing paintbrushes for watercoloring or flakes of loose glitter, eyeliner brushes, and gold leaf flakes. Half of my supplies come from an art supply store, not a beauty supply. 
 
Where do you find inspiration?
MP: Usually textile patterns and texture, but anything can be an inspiration. 
 
What do you think of the online nail art community?
MP: It's fun. I have met a lot of wonderful people through nails and specifically nail people on the Internet. It's a little family; we all know each other. 
 
What inspired you to write a book?
MP: To be honest it was not my idea initially, but of course I was very excited by the opportunity. I just thought of my favorite designs — especially the ones that need a bit of explaining in order to execute — both things I had done before and things I have been wanting to do. There is a big range from simple to difficult. There's definitely a design for everyone; I tried to make a diverse "menu," range of colors, steps, and timing.