DKNY Creates Million Dollar Perfume Bottle For Charity 2011-08-10 03:05:39
DKNY Makes a Million-Dollar Bottle of Perfume For Charity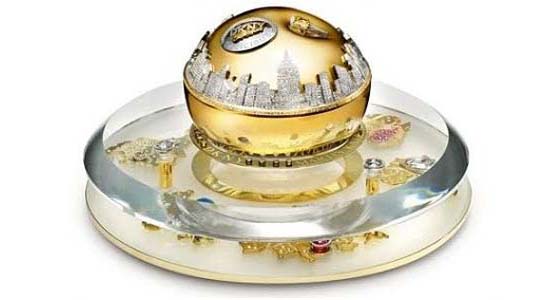 Sometimes extravagance can serve a good cause. To celebrate the launch of its latest fragrance, Golden Delicious, DKNY has created a literal million-dollar bottle of the perfume, complete with jewel-encrusted pedestal, which the company will send to showcases in cities all over the world before auctioning it off for charity.
The atomizer is made of 14-karat yellow and white gold and has 2,909 precious stones inset, including a 1.65 carat tourmaline, a 7.18 carat sapphire, a 3.07 carat ruby, and more than 20 large diamonds.
Net proceeds of the sale will go to Action Against Hunger, which provides inpatient and at-home care for people suffering from acute malnutrition, trucks in clean water to areas affected by natural disasters, and performs a host of other humanitarian activities worldwide. So if you have a million extra dollars lying around, and you really love DKNY Golden Delicious, you know what to do.