Days of Our Lives Makeup
Behind-the-Scenes Beauty: Men in Foundation on Days of Our Lives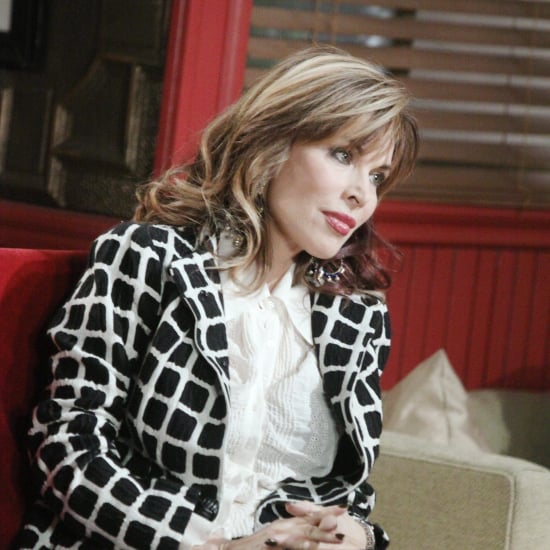 As one of the longest-running soap operas on television, Days of Our Lives has seen its fair share of beauty trends over the years, not to mention the introduction of high-definition television. "That was the biggest change," said lead makeup artist Joleen Rizzo, who has been with the show for 16 years. "We had to basically relearn our jobs." But unlike all the drama that happens for the residents of Salem in Days of Our Lives, which you can watch weekdays at 1 p.m. EDT on NBC, the makeup department is basically drama-less . . . except when it comes to figuring out which foundation to put on the male actors. Get the scoop when you keep reading.
How the Makeup Has Changed:
The biggest adjustment for Rizzo has been the change in filming styles. "Early on, we were shooting with video tape, so the makeup was much heavier," she said. Makeup artists on the show would use Max Factor Pan-Cake Makeup ($9) — even on the men. "We did video tests when we switched over to HD, and what we thought was light makeup, when we saw it on tape, was appalling," Rizzo said.
The foundation overhaul meant different formulas for different characters, which is to be expected for a cast this large. For all of the men and some women, Rizzo uses Make Up For Ever HD Foundation ($39). Another favorite of Rizzo's is Armani Luminous Silk Foundation ($60) for the women. And for the acne-prone teens of the cast? Neutrogena SkinClearing Oil-Free Makeup ($14) is the go-to foundation.
Coming Up With So Many Looks:
Since the show is on the air five days a week, and almost every show requires new hair and makeup, coming up with looks can be an issue. "Also, some things are at home, some are in the office, sometimes it's formal, and sometimes it's sexy," Rizzo said. "And every day is different for every single character." She explained that deciding on hair and makeup looks is surprisingly collaborative. "Sometimes the actresses will say, 'I want a smoky eye and a pale lip,' or sometimes they'll ask for certain hair," she said. "Sometimes they just let us do what we want."
And for story lines that require multiple days of filming in the same looks? Rizzo and her team rely on continuity photos to make sure things stay on track.
Favorite Looks?
Rizzo said that Lauren Koslow (pictured above), who plays Kate Roberts on the show, is one of her favorite actresses to work with. "She is just stunning as far as her makeup. Her hair is always beautiful. She is so well put together," Rizzo said of Koslow's character Kate. "She's one of the evil ones on the show, but she has a heart, and her look is very indicative of that."
Halloween episodes are always a fun time to play around with makeup, Rizzo said, and it's something the entire team looks forward to. As for all the weddings that happen regularly on the show? "Every character has been married so many times, it's hard to remember them all!" Rizzo quipped.