Deborah Lippmann Girls Collaboration
Deborah Lippmann's Dream Collaboration? Barbra Streisand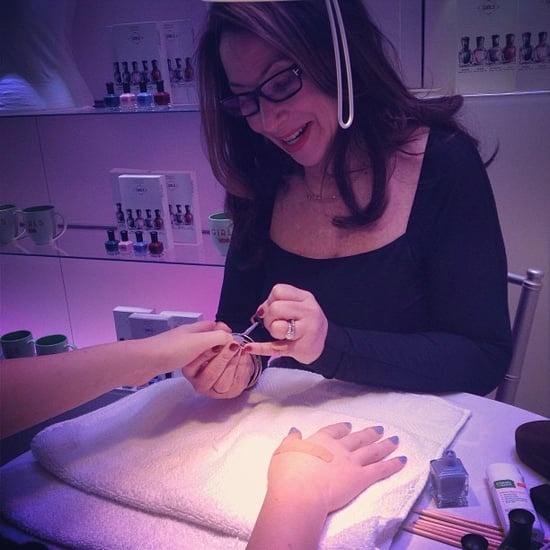 During an event to celebrate her collaboration with the Golden Globe-winning comedy Girls, Deborah Lippmann couldn't stop smiling. "I almost had a heart attack when I saw it," she laughed, referring to the cameo one of her bottles made in last week's episode. In the scene, show creator Lena Dunham's character Hannah is lounging in bed, haphazardly swiping the red polish across her fingernails. "My husband actually had to put his hand over my mouth," she said. "I kept gasping because they kept cutting to it!"
The partnership was born out of Lippmann's long-standing friendship with Lena and came about after Lena asked her what it would be like if Hannah had a really cool green shade to call her own. But the nail maven's dream collaboration? Barbra Streisand. "I'm a singer, and I grew up wanting to be her," she said. "And she's known for her nails . . . her immaculate, incredible nails." Lippmann imagines that if her vision came true, they'd link up to create the perfect nude shade or the perfect red. "It's absolutely something that would scare the living daylights out of me," she says. "Sometimes I like to do things that are really scary."
Learn her Fashion Week predictions and favorite colors for Spring when you keep reading.
Looking forward to New York Fashion Week, where she'll be working with Kate Spade, Badgley Mischka, and Narciso Rodriguez, among others, Lippmann says expect to see more color. "We haven't done hair and makeup tests yet, but I don't think color's going away," she says. "I've been getting lots of requests for color." So the sheer, pale pinks of runways past will probably be on hiatus another season.
As for Lippmann's favorite Spring shades? Besides character Shoshana's lavender hue (aka Virtuous Vivid Violet), one of the brighter shades in the Girls collection, Lippmann is also a fan of greens. "It's a joke in my office that I always say that I don't like green, but some of the coolest colors we've ever made are greens," she says. "It goes back to Streisand. When you're making something that's not in your comfort zone, sometimes it can be the best."