Dev Beauty Interview
Which Singer Perfected the Cat Eye While in a Car?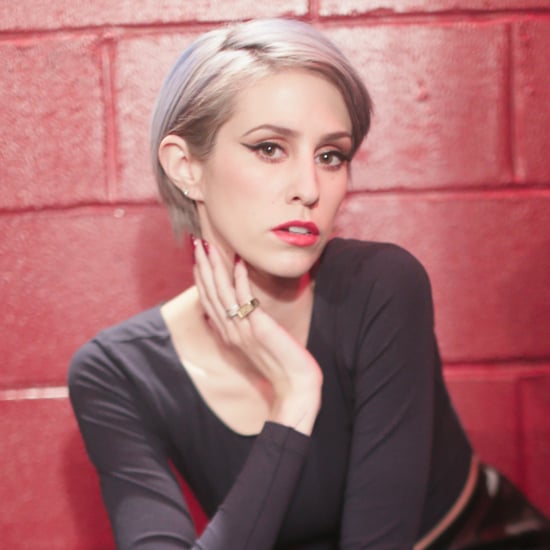 Dev might just be the coolest woman we've ever met. She got her first tattoo at 16 with her dad in tow, she dyed her hair blue to coincide with the mood of her latest EP, she idolizes Jenna Lyons just like us, and she wears a cat eye to the grocery store. "I love eyeliner," the CK One color brand ambassador said in a recent interview. "It took me a good six months to get really comfortable doing [a cat eye]. I have to hold my breath, and I usually kneel my elbow on the sink for balance. But I'm pretty decent now; I can do it in the car." So not only is Dev a singing superstar, but she also has better skills than the average makeup artist.
While Dev's music has a definite hip-hop and dance vibe (think the bouncing bass in "Like a G6" and "Bass Down Low"), her style is chic and classy. "I like to keep it simple, sexy, a little tailored sometimes, and then my tattoos or nails or hair would be the extra touch," she said. It's clear her hair is her favorite accessory. In the last year alone, Dev has cycled through many different hair colors, from black to bleach blond and now her bluish purple hue. "I was just feeling the vibes — it sounds corny — but the vibes from my EP are blue," she said. "When I listen to it and the way the songs flow and what they're about, I see bluish hues." Find out more about Dev's beauty routine after the jump.
In addition to her hair, Dev spends a lot of time doing her own makeup on the road. "I like to play with makeup. That's what's fun about being a girl," she said. But when she does have a professional around doing her makeup, she doesn't pass up the opportunity to get beauty tips. "Hung [Vanngo] tells me to exfoliate three times a week. It really makes a difference in keeping your skin healthy — especially for me, because I always have to wear a lot of makeup, and I'm sweating up on stage." Dev told us she keeps her Cetaphil products nearby to avoid breakouts on the road.
She also took a lot of her beauty advice from her mother, who harped on taking care of your skin from within. But Dev has a little different advice for her daughter, Emilia. "I want her to be accepting of all types of cultures, but also able to kick ass if someone messes with her." Sounds like her daughter will be just as cool as her mom.