Diane Kruger Named the Face of New Calvin Klein Fragrance 2010-05-07 11:00:42
Diane Kruger Keeps Her Clothes on For Calvin Klein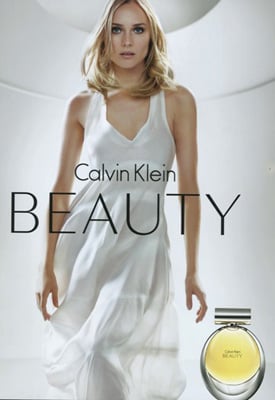 Calvin Klein's fragrance ads typically drip with overt sex appeal, but the brand's latest venture isn't quite so obviously sultry. This October marks the launch of Calvin Klein Beauty ($50-$85), a refined floral that will be backed by the elegant Diane Kruger.
"Certainly sex is in our DNA, but this fragrance speaks to a different audience [than scents like Obsession and Euphoria]. It is very much the spirit of [Calvin Klein] Collection — elegant, sophisticated, timeless and beautiful — and designed to appeal to a more mature customer," creative director Francisco Costa told WWD. Set to debut in October, the scent, inspired by the calla lily, will include top notes of ambrette seeds, a middle note of jasmine, and a bottom note of cedarwood.
But will Diane derobe much like Eva Mendes did for Secret Obsession? That's a negative. "They showed me the concept, and it was classy. So I knew from the beginning that I didn't have to take my clothes off," she said. Expect to see the new scent, encased in an egg-shaped, silver-accented bottle, on TV, print, and online advertisements. Are you glad to see more clothing in this campaign, or do you prefer things more bare?