Diego Binetti Fall 2011 Manicure Report
Could This Be Fashion Week's Wildest Manicure?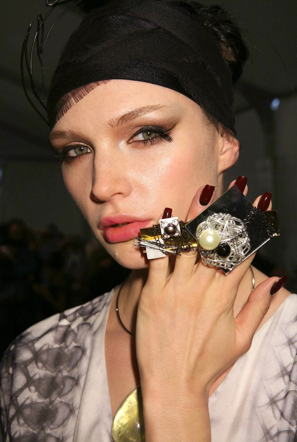 Nail art just jumped into another stratosphere, thanks to work by CND's Kristina Estabrooks. For the Binetti show, she created a Cubism-inspired manicure that created the appearance of a slimmer nail. Using CND polish in Blackjack as a base, she "slim-lined" the nail tips with Raisin in the Sun and Bloodline polishes. The slim-lining technique involves leaving a little space between the cuticle and polish; in this case, it created a duo-tone look. To set off the manicures, models wore unique accessories handcrafted from mirrors, feathers, and broken glass. Time will tell, but this could turn out to be Fall 2011's most unusual manicure.
Photo courtesy of CND