Dita Von Teese's Cleavage Is Too Sexy For CSI
Why Do People Still Find Cleavage Offensive in 2011?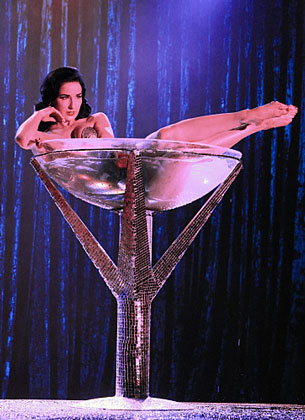 Next Thursday, in CSI's "A Kiss Before Frying" episode, Dita Von Teese will star in three roles: a French grandmother, a schoolteacher, and that same teacher's burlesque alter ego, Rita Von Squeeze. Heh on the name, but what's not so funny is the fact that the bigwigs at CBS apparently deemed the star's assets too provocative. Dita told TV Guide, "There was a lot of network talk about my 'offensive cleavage,' which I found interesting considering how much blood and gore there is. We had to take it down a notch."
Uh, did they not realize voluptuousness and sexiness are two of Dita's most well-known qualities? And how shocking is it that a burlesque star who was hired to play a burlesque dancer might possibly show a little skin? The topic brings to mind the Katy Perry/Sesame Street debacle of 2010, where the songstress's bosom was deemed a bit too daring for the longtime children's show.
However, Sesame Street is a show for kids, and it's understandable that in-your-face cleavage might be a tad inappropriate for the preschool set. However, CSI is an adult show that airs well past the kiddies' bedtimes. It's also a show with plenty of grown-up topics, and I think we can all handle a few low-cut corsets thrown into the mix.
Photo courtesy of CBS