Dita Von Teese Half-Moon Fake Nails
Dita Von Teese Makes Gorgeous Vintage Vamp Fake Nails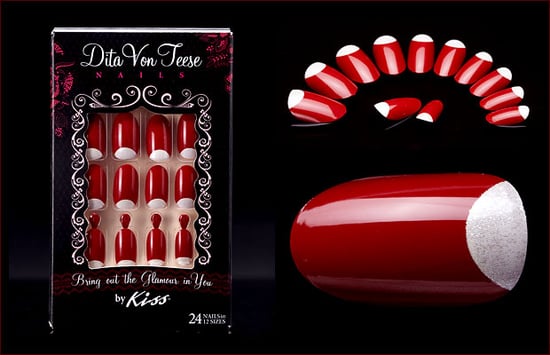 Dita Von Teese has been having artificial nail company Kiss make her custom premanicured falsies for years, and starting this month she's actually selling them. So if you love her perfectly vintage half-moon manicure and gorgeous almond-shaped nails, now you can just buy them and glue them on yourself.
"I wanted to offer a shortcut to obtaining the nail style that I have been wearing for the last 20 years," Dita says. "If you look very, very closely, the most glamorous and iconic portraits of the 1930s and 1940s show the half-moon manicure. I think it was a way of showing that you had someone take the time to do your nails and perfectly paint the half-moon rather than doing them yourself."
The Dita Von Teese Nail Set by Kiss ($10) is a little more costly than most drugstore artificial nails, but for a party or a night out they'd be a glamorous option and much less expensive than going to a salon. They're available on Dita's website or at one of her shows, so if you're coveting them you can swipe some for yourself there.