Dita Von Teese Talks About Her Upcoming Book and a Potential Fragrance and Makeup Line
Dita Von Teese Talks About Her Upcoming Book and Ditching Her Signature Scent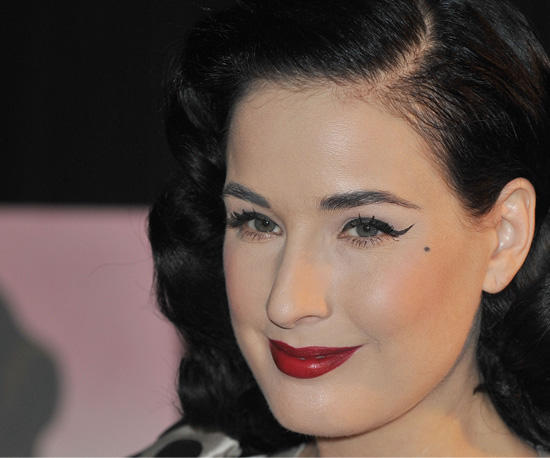 Dita Von Teese has been known to tweet her beauty secrets a time or two, and soon she'll be sharing even more about her look, as she's currently working on a beauty book. Dita, who travels sans a hair and makeup team, wants the forthcoming step-by-step guide to be all about getting a DIY message out there. "I don't go to the salon when I need to color my hair, I pull out my box of hair dye. I want women to understand that you don't have to have the glam squad to put you together," she told WWD. But Dita's not rushing through the book-making process, instead choosing to take her time on getting it right. To see what else Dita had to say, including a few hints about doing her own fragrance and makeup line, just keep reading.
On breaking free from the cookie-cutter mold: "It's easy to fall into the trap of 'we're supposed to look like natural beauty, healthy, tan . . . ' I'm trying to lay it out and show people the other forms of beauty. People that don't have a little tiny button nose and blonde hair. Someone's going to love you for what makes you different, so stop trying so hard to fit into the American standard of blonde-ism."
On the prospect of launching her own makeup line: "I want to do my own makeup line, because I feel like things are missing in the world . . . I'm constantly trying to mix up colors. Also, I mix my own body makeup. I love the idea of beautiful packaging for cosmetics."
On her fondness for matte lipstick: "I love the look of matte, velvety lips. Every girl should have a matte red and a matte fuchsia." Dita recommends Tom Ford's new lipsticks ($45).
On discovering she wears the same fragrance as her boyfriend's mother: "I'd been wearing [Quelque Fleurs] since I was 14. So when I found that out, I immediately called my friend Kilian Hennessy, who is a perfumer, and said 'What do I do? It's my signature scent.' He said to me, 'Either get rid of the man, or get rid of the fragrance. You have no other options.' So I've been wearing other things, but what I really want to do is make my own fragrance. I don't want to smell like anyone else."