Dita Von Teese Uses Just For Men to Dye Her Eyebrows 2011-05-24 10:50:51
Dita Von Teese's Brows Dyed With... Just For Men?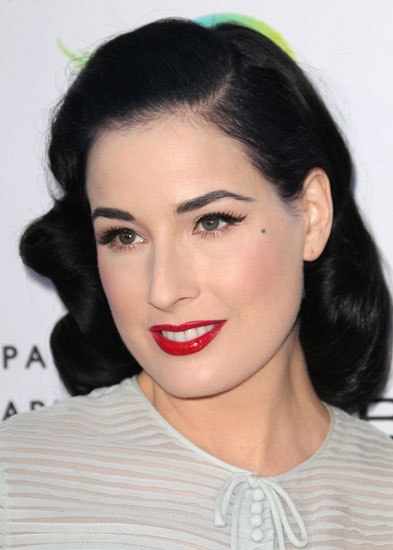 Dita Von Teese is known not just for her burlesque background, but also for her retro beauty look. For those signature, meticulously shaped eyebrows of hers, Dita turns to the unexpected to transform her naturally light eyebrows to something more dark and dramatic: Just For Men hair color. "I'm kind of a do-it-yourself person as far as my hair, makeup, and styling go," Dita explained to T Magazine in an interview conducted by celebrity makeup artist Tina Turnbow. To see what other beauty secrets Dita revealed to Turnbow, just keep reading.
Dita's bare essentials makeup items:
"Flawless skin is the most important thing, then red lips," she said. Her favorite products to achieve this look? Dior Capture Totale Foundation, MAC's Mineralize Skinfinish powder, and Diorific lipstick in Dolce Vita Red.
Dita's trick for the perfect cat-eye:
"I look down into a mirror to apply it so I can see the shape and match them up better," Dita told Turnbow. Dita also recommends avoiding pulling the lid to the side to keep the line from distorting. Her favorite combination: Guerlain Divinora Liquid Liner topped off with DiorShow Mascara.
Want more beauty secrets from Dita?
See several of her tips and tricks here.