Does Coloring Your Hair Change the Texture?
Ask Bella: Will Dyeing My Hair Change the Texture?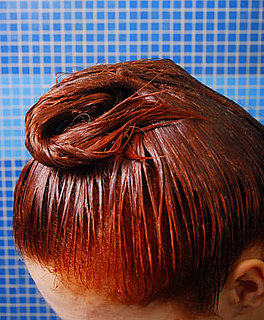 Recently, a reader wrote in asking for advice on coloring her hair:
I'm considering dying my hair. I've always wanted to do it, and I'm starting to get a few gray hairs — even though I'm only 23. But my hair is very soft and silky and I'm worried dying it will change the texture. Am I right to be worried? I have brown hair and would like to go a more reddish-brown color.
Hair dye works by using peroxide or ammonia to open up the hair's cuticle to either lift and/or deposit color. Essentially, it alters the hair's structure, which can cause a noticeable change in texture. But that doesn't mean you have to go around looking as if you've got a bad case of the frizzies. Find out my solution when you read more.


My pick: Gentle and ammonia-free, demipermanent hair color uses a low level of peroxide to help penetrate the hair shaft. It helps small amounts of gray blend with the rest of the hair, and the gentle, conditioning formulation makes hair shiny. While you can't go lighter with demipermanents, you can stay within the same shade range or go darker, allowing you to enrich your natural shade with a beautiful tone of your choice. Depending on how much you shampoo, your color should last about four to six weeks, with no visible roots. My advice? If you're not so sure which shade and tone to pick, head to a salon or cosmetology school for advice. For at-home color, try Clairol Natural Instincts ($9).
If you're not so sure: Try out a semipermanent color. Just like a demi, semipermanents can't lighten, but they can blend sparse grays and are peroxide- and ammonia-free, meaning, you'll get color enhancement with gentlest results. This type of treatment lasts through about five to six washes, so it's a perfect way to test the waters.
Go for henna: Another option is henna. Although many users report feeling a thickening of their locks after application, this natural hair dye works by coating the strands, not altering their structure. If you're all about going natural, henna just might be for you.