Dolly Parton as Beauty Icon
Bella Donna: Dolly Parton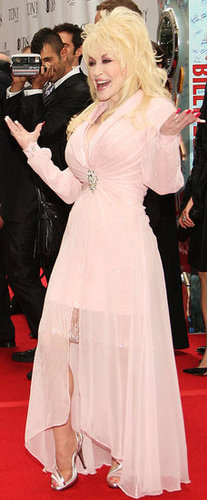 There is no one who seems to have as much fun with beauty, or as few pretensions about it, as Dolly. The 64-year-old doyenne of country music famously said: "It takes a lot of money to look this cheap." She's unapologetic about her style, whether she's wearing gobs of glittery purple eyeliner with orange lipstick or a lacy, rhinestone-covered pink chiffon dress with a hip-high slit.
Dolly was raised poor in a dilapidated cabin in Locust Ridge, TN. She began writing songs when she was 7, then singing professionally to support her family when she was 13. As a teenager performing at the Grand Ole Opry, she met Johnny Cash, who told her to go where her heart took her and not care what others thought. She took that advice, and it paid off. To date, she's had more top 10 albums than any other country singer, and more number-one hits than any other female artist.
For other bons mots from Dolly, read more.
She's known for her self-deprecating wit, rebutting derisive comments about the corollary between her hair color and IQ. "I'm not offended by all the dumb blonde jokes because I know I'm not dumb . . . and I also know that I'm not blonde," she's said. She shows no signs of slowing down, either. She just scored a hit Broadway show, 9 to 5: The Musical, based on the 1980 film of the same name which, incidentally, helped make big hair fashionable. Atta girl.
We love Dolly for being the patron saint of doing what makes you feel beautiful, regardless of what anyone else might think. So the next time you're tempted to try that nouveau mullet or obvious lip liner (and yes, they are both having a moment), just remember Dolly cheerily telling Oprah, "If I have one more face-lift, I'll have a beard!" Ashamed to be happy with her choices? Never.