Dolly Parton on Breast Implants, Wigs, and Fake Fingernails
Dolly Parton Would Give Reese Witherspoon a "Big Old Boob Job"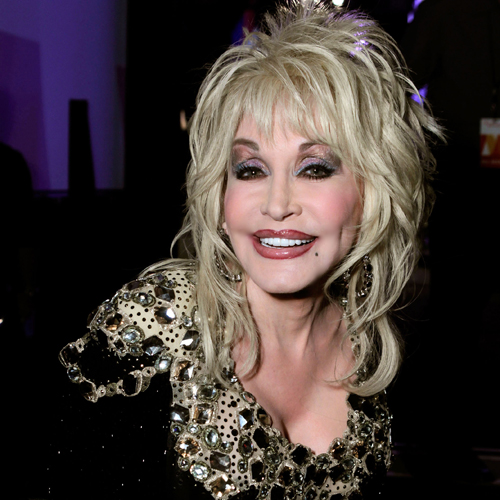 Dolly Parton is an irrepressible blond bundle of bonhomie and bon mots, and she's been talking up a hilarious storm lately. In an interview with UK magazine Q, she dished on everything from losing her wig and having a legendary bosom, to sawing Taylor Swift's legs off at the knee, to her thoughts on giving Reese Witherspoon enlarged assets. To see all the juiciest tidbits from the interview, just keep reading.
On the height of country music stars' hair, male and female: "When I was with my duet partner Porter Wagoner in Europe, we both had big bouffant hair. We used to fight over the hair spray. I think his hair was bigger than mine."
On the vicissitudes of wearing a wig: "One time I was riding a bicycle with my best friend Judy Ogle and I hadn't pinned my wig on all that well. We went to this little grove with an overhanging tree. As I cycled under it, I saw Judy crying with laughter. I turned around and there was my hair, hanging from a branch. I had to turn around quickly and snatch my hair off the tree."
"Then another time, I was doing a show and my fiddle player got his bow stuck in my hair. Every time he played a note, I could feel my hair piece lifting up. I was fighting to keep it on."
On being an amazing guitarist, even with three-inch fake fingernails: "I've always been able to play with them on. Of course, I do my best playing when I take off these acrylic nails, but I have learned how to work it with them on. My right hand is fine; they're like picks. It's my left hand I have to be careful with."
On who should play her in a Dolly Parton biopic: "There were rumors about Reese Witherspoon being up for the role, but we'd have to get her a big old boob job or a big old bra. I'm actually writing my life story as a musical, and I want Kristin Chenoweth to play me. People have asked, 'What about Taylor Swift?,' but she's too tall, too slim, and has no boobs. She's like a supermodel. You'd have to saw her legs off at the knee."
On getting ogled and insuring her legendary chest: "I've slapped a few people who didn't stare at them! This kind of money, they'd better be looking at them. No, I've not insured my boobs. I just paid a million dollars for them and I hope they look like a million dollars, too!"