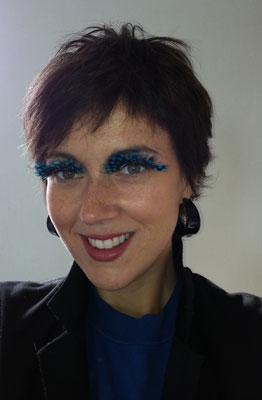 If you believe this Daily Mail article, doubling your false lashes is the latest way to go. In fact, two female finalists on the wildly popular UK series, X Factor, recently wore lashes so outrageous, consumers have been heading out in droves (UK-based Superdrug has reported a 33 percent rise in sales) to double theirs up to get the effect. So, I thought I'd try the look out for myself. But did it work? To find out, just keep reading.
I started off by using Fright Night's plain black Bat Those Lashes ($3), which looked rather nice I must say. Then, I layered on the brand's blue and black Black Magic lashes (find out where to get them here). While I may look like some freakish version of Cookie Monster as a result, I actually quite like these lashes — on their own, however.
The doubling up part I found to be messy and rather unnecessary with very little extra impact in the end. But individually, these inexpensive lashes (score!) rock, and they'd be perfect for Halloween. I'm thinking peacock or showgirl, perhaps?