Drugstore vs. Department Store Makeup: See the Difference?
Can You Tell the $38 Face From the $209 One?
As POPSUGAR editors, we independently select and write about stuff we love and think you'll like too. POPSUGAR has affiliate and advertising partnerships so we get revenue from sharing this content and from your purchase.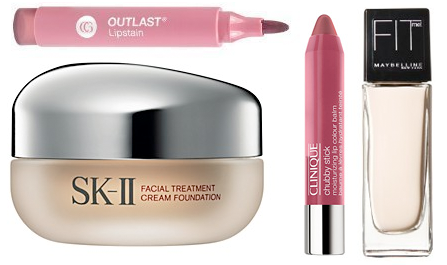 Is there really a difference between drugstore makeup and department store finds? Well, yes... and no. It all depends on the product. Some of the best mascaras, like CoverGirl Lash Blast, cost less than ten bucks. And some luxury splurges, like Chanel Rouge Coco lipstick, are truly worth every cent. But can you tell what someone's wearing just by looking at her? To find out, I applied high-end products to one side of my face, with drugstore items on the other. It was a total Harvey Dent moment. Think you can guess which side is which? See the picture and find out.
One half is wearing $209.50 worth of makeup: SK-II Facial Cream Treatment Foundation, MAC Eye Kohl eyeliner, Chanel Correcteur Perfection concealer, MAC False Lashes mascara, Nars blush, and Clinique Chubby Sticks.
The other half rings in at $38.01: L'Oreal Extra Intense eyeliner, Maybelline Fit Me! foundation and concealer, L'Oreal Voluminous Million Lashes mascara, and CoverGirl Outlast Lipstain on lips and cheeks.
Leave your guess as a comment and I'll let you know later today!