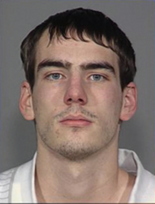 Poor Portlanders. As if taking the bus weren't enough fun as it is, Rose City residents have been dealing with a man with a serious hair fetish. Over the past few months, some women have been riding public transit when — surprise! — someone's cutting their hair or squirting super glue in it before running off.
Authorities have charged 22-year-old suspect Jared Weston Walter, shown here, with third-degree robbery, interfering with public transit, second-degree disorderly conduct and harassment. (He's being held on $12,500 bail.) It looks like this may not be the first time he's turned the world into his personal Fuzzy Pumper Barber Shop. When he lived in suburban Houston, police had been investigating a rash of hair-gluing incidents that abruptly stopped . . . right when Walter moved to Oregon. And in March of last year, he was arrested for fourth-degree assault in a hair-gluing incident. Anyone else feel her stomach turning?
This is one of the more awful and violating public-transit stories I've ever encountered — and having lived in multiple metropolises, that's saying something. If you happen to be a witness or victim of a similar crime, the Multnomah County Sheriff's Office encourages you to dial its anonymous tip line at (503) 723-4949. Here's hoping that Pervy Scissorhands sees justice served.