The Easy, Cheap Way to Make Your Own Hair Garland
Get the Look: Make Your Own Haute Couture Hair Garland
As POPSUGAR editors, we independently select and write about stuff we love and think you'll like too. POPSUGAR has affiliate and advertising partnerships so we get revenue from sharing this content and from your purchase.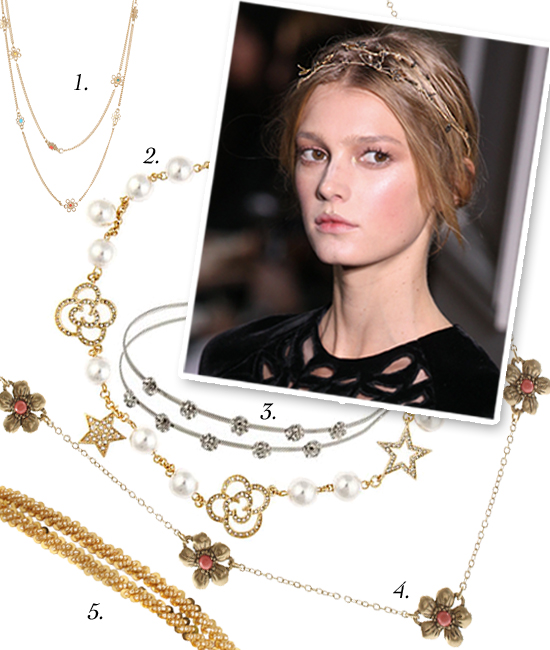 Garlands have been showing up everywhere for several months now, and they're poised to be the next big hair accessory trend. The latest, prettiest iteration on the look (and by far the most wearable) is the simple gold daisy chains we saw on models at the Valentino show at 2011 Paris Haute Couture Fashion Week. Slender chain garlands are much less obtrusive than a wreath, and low-key enough to wear any time.
Luckily, it's easy to make your own wreath out of an inexpensive gold-toned charm necklace. All you do is pin the ends of the chain together in the back. There are plenty of cute, inexpensive pieces that look a lot like the Valentino chains, too, like Cath Kidston's short floral necklace ($17, no. 4) or this gold and pearl charm necklace ($57, no. 2) from Blu Bijoux. If you want a readymade double band, Forever 21's flower charm necklace ($3, no. 1) is a bargain.
And if you're not comfortable making your own, there are also some very similar headbands available, like this silver double-banded L. Erickson engaged headband ($32, no. 3) and this glitzy beaded headwrap ($6, no. 5), also from Forever 21.