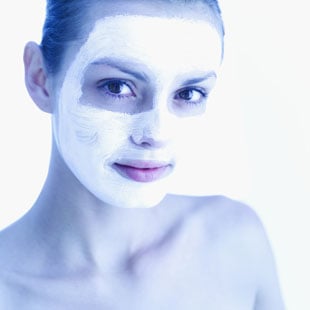 Marie Veronique Nadeau is the kind of woman you want to chat up for hours. Not only is the former chemistry teacher practically (and naturally) wrinkle-free in her early 60s, but she's also a licensed esthetician and founder of Marie Veronique Organics, an eco-friendly line free of toxins, nanoparticles, and petroleum-based ingredients. And when I asked Marie for a few quick, easy, and natural masks to do at home, she delivered. Find out two great recipes when you read more.


To soften and smooth: Try yogurt. "Yogurt has lactic acid in it, which is an exfoliator," says Marie. Just take about a teaspoon or so of yogurt, leave it on the face for about 15 minutes, and simply wash off. You can even mix in some mashed strawberries or a little oil (like vitamin A or E) to the yogurt. Another benefit of a yogurt mask? "It's very good for mature skin," she says.
For acne-prone skin, hyperpigmentation, or scarring: First apply a light layer of olive oil as a buffer. Then, scrub a quarter of a lemon over your face for about 30 seconds. Wash off. "This can be kind of drying, so do that maybe once a week," Marie advises. Just don't forget to wear sunscreen after doing this treatment.