Egyptians' Lead Eyeliner Was Antibacterial 2010-01-20 04:00:14
Lead in Makeup: Not All Bad?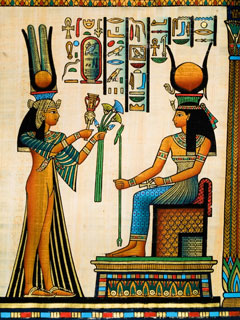 Until relatively recently on the grand historical scale, lead was a common makeup ingredient, used in eyeliner and as powder for its lovely pigment and versatility. Unfortunately, lead also poisons blood, leads to facial deterioration, and — oh yeah — kills people.
But now, scientists studying ancient Egyptian cosmetics say that our ancestors might not have been so crazy after all. Even though lead is harmful, it may have had a much more immediate benefit for its users: preventing infections. During the Nile's flood stage, it was common for people to get infections through their eyes, since particles and bacteria can penetrate ocular membranes and ducts easily. Lead-based eyeliner, however, could have killed the bacteria before it entered the eye, keeping people hale and hearty during an otherwise dangerous time of year. It's not something I'd like to try — again, not keen to try death by lead poisoning — but it is a pretty fascinating insight into the beginnings of a cosmetic item we still use today.