Elemis FreshSkin Dreamy Sleep Night-Time Moisturizer Review
This Moisturizer Lets You Sleep Your Way to Brighter Skin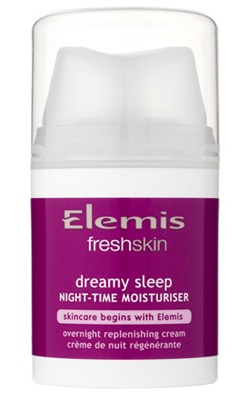 Anything that claims to "work while you sleep" will always get my attention. I like the thought of a product just working its magic while I catch forty winks — and that's exactly what FreshSkin Dreamy Sleep Night-Time Moisturizer ($42) does.
Though the FreshSkin line is technically geared toward women in their teens and early 20s, I have skin that's just finicky enough to qualify as adolescent. In addition to keeping me looking clear and smooth, the FreshSkin moisturizer is extremely hydrating, and it brightens my skin (this is especially noticeable after a late night). Not only does it include a potent complex of Vitamins A, C, and E, but It has the loveliest lavender-infused scent, which helps me to sleep better.
While it isn't the least expensive nighttime moisturizer on the market, it packs a lot of punch with very little product. After cleansing, I smooth a pea-sized amount over my face and neck, and let it sink in. Then I sink in to a good night's sleep, knowing that my skin will look great in the morning.