Emma Stone's Victory Roll Updo
Try Emma Stone's Roll-With-It Updo Look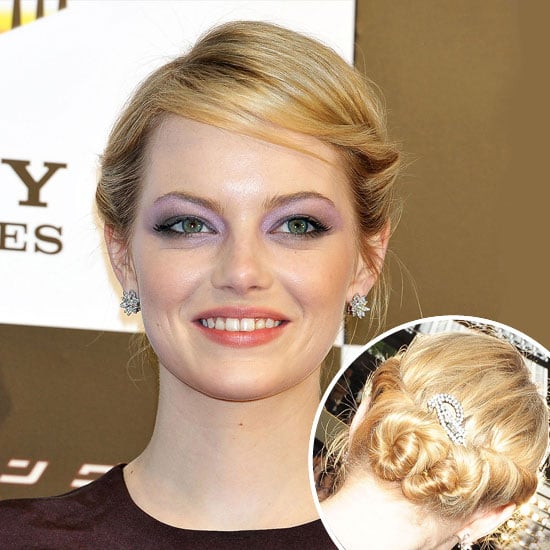 Sometimes you have to just roll with it, like Emma Stone did on her press tour for The Amazing Spider-Man earlier today in Japan. Emma started the day bright and early, wearing a cute ponytail at a press conference for the film, but later in the day, the quick-change artist opted for this creative, double-rolled updo at the premiere. It's a little bit vintage, but with a few modern elements thrown in. See how you can re-create her chic style when you read more.
Begin with hair that's been freshly blown-out and form a deep side part in the front.
Now create two sections in the back, right down the middle. Starting right around the temple on the light side of the part, roll back toward the nape, incorporating hair from the rest of the head. Once you get about one to two inches from the center of the neck, secure hair with an elastic so that you have a little ponytail hanging down. Repeat these steps on the heavy side of the part.
Twist and turn each of the ponytails separately so that they form cinnamon roll-like shapes. Pin to secure.
Finish by using a fine-tooth comb to smooth out any awkward partings and stray pieces. Optional: add a sparkly brooch to amp up the glamorous factor.