Emmy Rossum Hair Tips
Emmy Rossum Reveals Her Instagram and Pinterest Obsessions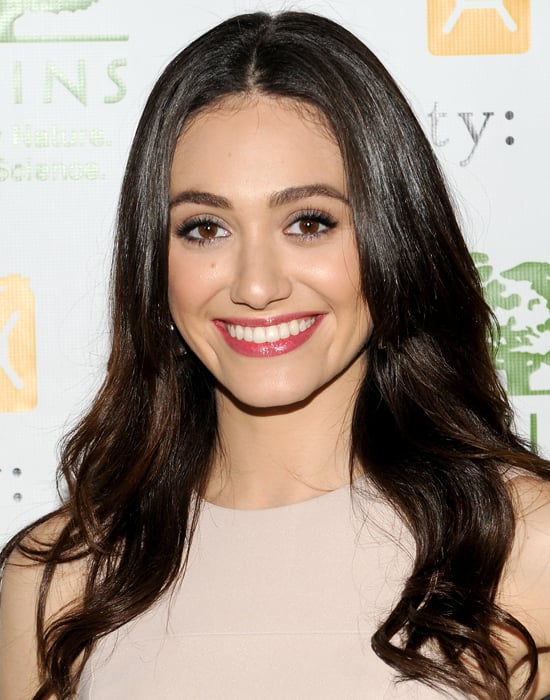 Emmy Rossum is the kind of girl you want to be friends with. At 27, Emmy still holds weekly get-togethers with friends, which include vegging out on reality TV (Big Brother is her show of choice), giving each other manicures, re-creating braids from Instabraid's Instagram account, swapping facials, and making homemade risotto. "We really are those little girls on YouTube who watch tutorials and learn how to braid and do nails," she tells us. Uh, how can we get an invite?
Last night we caught up with Emmy, who has collaborated with Origins to celebrate its partnership with Charity Water and help launch the brand's new Smarty Plants CC Cream ($35). As a part of the program, Origins will match every pledge of $30 (which is enough to provide clean water for up to 10 years to an Ethiopian citizen in need), up to 1,000 pledges. You can help the brand and Emmy reach the $60,000 goal by donating here.
During our talk with Emmy, the Shameless star also revealed what's on her drugstore shopping list, her favorite DIY beauty projects, and more. Find out her tips and tricks when you keep reading.
As it turns out, Emmy is the queen of do-it-yourself. "I am so huge on Pinterest. I have boards for all of the hair and makeup that I love that I found on websites or magazines," she says. "I will take an image of a dress and start putting different heads on it and see how the hair and makeup look with it."
Among Emmy's beauty favorites are Rodin oil ($65) to moisturize her curly hair, Butter London Yummy Mummy ($15) as that perfect nude polish, Tresemmé dry shampoo ($5), and Burt's Bees lip balm ($7). But the best advice she shared was swiped from an article about Liv Tyler. "If I ever work out too much or when I travel a lot, I dump Epsom salt and an entire bottle of hydrogen peroxide into my bath. You sweat everything out," she explains.
In addition to Liv, Emmy takes inspiration from strong women in the spotlight. "Christiane Amanpour is not a huge glamour girl, but really ballsy, confident, and informed; that's really attractive," Emmy says. "I think Cate Blanchett is incredibly beautiful — not only for her talent but she has great skin. I mean, go back to Cleopatra: there was a girl who knew how to do a milk bath!"
But of course, no one can give advice like the actress's own mother. "My mom always tells me, 'Stand up straight and wear underwear.'" Well, Emmy's got those two things covered and then some.