Emmy Rossum in Nude Lipstick
Emmy Rossum Wears the Perfect Nude Lip (and You Can Too)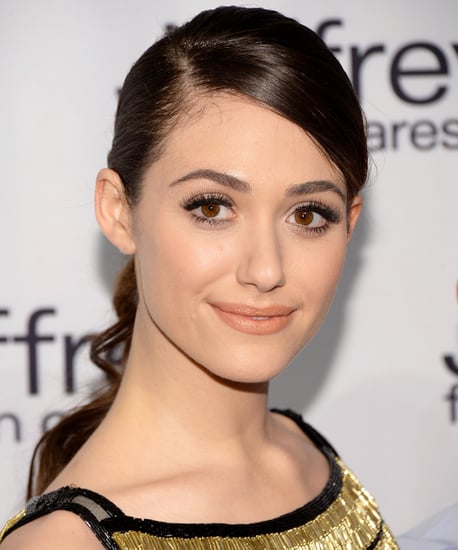 Emmy Rossum went for a '60s-inspired makeup look at the Jeffery Fashion Cares celebration last night. "We wanted to create a mod look, but bring it into this millennium with really clean, glowing skin and a dramatic eye," said makeup artist Jake Bailey.
To re-create the look at home, start by using a waterproof liner like Rimmel London Scandal Eyes Eyeliner ($7) on the top and bottom lashes and in the crease of the eye. Then smudge the liner between the bottom lashes before applying mascara to give the illusion of more volume. Apply a strip of false lashes to the top lashes to really make your eyes stand out.
Instead of using highlighter to add a glow, Bailey applied a light concealer below the brow bone. He also used cream blush to give her cheeks a dewy finish, while the T-zone was powdered for a matte look. As the final touch, he selected a pencil two shades darker than Emmy's natural lip color for a clean nude lip. Try Nars Satin Lip Pencil in Floralies ($25) for a similar shade.