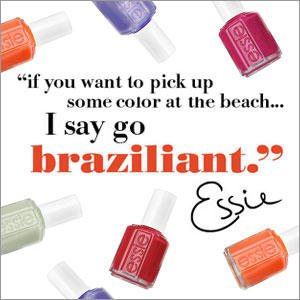 Having beautiful painted nails is sure to make you feel polished and poised, and thanks to essie and its wittily named lacquer colors, mani/pedis can be quite entertaining, too!
To celebrate its Summer Collection, essie wants you to get inspired by the beach, so it's giving away all six "braziliant" colors in the Summer Collection! From coral to blue hues; braziliant, too too hot, super bossa nova, meet me at sunset, smooth sailing and absolutely shore has you covered for the season of relaxation and fun!
So essie wants to know - what is your favorite color in the braziliant Summer Collection? Log in and comment below for your chance to win this colorful giveaway!
The contest ends May 23rd, 2011. Click here to view the entire braziliant Summer Collection! Good luck!