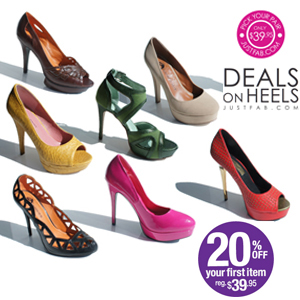 JustFabulous knows how important it is to stay on top of the latest and greatest trends, even if you're not walking the red carpet or consulting with your trusted stylist. So you can get the star treatment you deserve without the hefty price tag, JustFabulous offers its members a personal shopping experience with its Style Experts, and all items are $39.95. With free shipping both ways, easy exchanges, and 20 percent off the first order members make, it's time to get your shopping on!
So you can see what JustFabulous is all about, it's giving away three months of free shoes to three lucky winners! By taking the quiz below, you'll automatically be entered to win. Be sure you're logged in, because this is one giveaway that you don't want to miss. To learn more about JustFabulous, be sure to click here. Good luck!
You've been invited to an elegant gala at the local art museum. Which shoes would you accessorize with your glamorous gown?
First developed in 1935, wedge heels gained popularity during World War II due to the lack of leather and rubber.
You scored an interview to your dream job. Which pair of shoes are you most likely to pair with your business suit?
Feminine features have been a popular trend over the past few seasons. If you wanted to try this trend, which shoe would you most likely buy?
Which shoe style would you wear to complete your 1970s-inspired ensemble of flared denim and peasant blouse?