Erin Fetherston Fall 2010 Runway Look 2010-02-14 18:39:50
2010 Fall New York Fashion Week: Erin Fetherston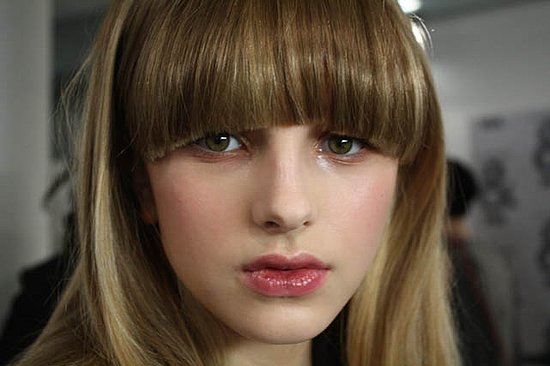 For Fall, Erin Fetherston's typically girly-girl fashion is getting a kick of rock-and-roll attitude. But if you're not into the wild "I'm with the band" look, good news: the show's fresh-faced look was a perfectly pretty, never-goes-out-of-style one. Look how cute!
To find out how to get the look, read more.
"The look is inspired by Nico of the Velvet Underground and a bit of Erin," said lead hairstylist Odile Gilbert, working with Moroccanoil. To get the look, she prepared hair with the brand's Hydrating Styling Cream. The models wore brow-skimming extensions that were blow-dried using a round brush. To keep flyaways at a minimum, she applied Moroccanoil Treatment to only the ends of hair and finished off with Luminous Hairspray.
"A glowing, natural look" was how makeup artist Lucia Pica described her vision. To create the face, she mixed MAC Care Blends essential oil with moisturizer and massaged it into skin. "It gets the blood circulating," she explained. From there, she curled the lashes and applied minimal foundation only over skin imperfections. To get the fresh-from-the-outdoors blush, she used her fingers to dab MAC Fearless lipstick on cheeks, blending well. The same lipstick was pressed onto lips. (Get more intense color by applying a little more using just the tip.) On eyelids, she used a blending brush to apply MAC Cocochino lipstick for color, not definition. A bit of lip balm around the inner corner of the eyes, a little extra moisturizer on cheekbones, and light powder underneath and between the eyes reduced excess shine.