Essence Eyeliner Review
What We're Sweet On: A Perfect Drugstore Powder Liner
As POPSUGAR editors, we independently select and write about stuff we love and think you'll like too. POPSUGAR has affiliate and advertising partnerships so we get revenue from sharing this content and from your purchase.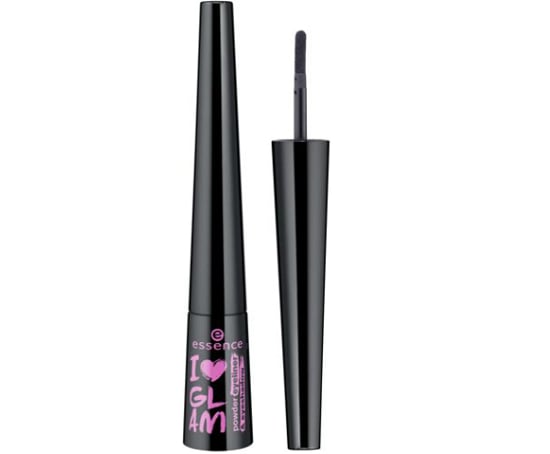 When it comes to powder eyeliner, things can get a little tricky. Angelina Jolie and other winged liner-loving celebrities swear by the stuff, but it's frequently messy and your typical shadow applicator leaves thick, faded-looking lines. Happily, Essence I Love Glam powder eyeliner ($3) takes care of both those issues. Sure, it's basically just a little bottle of shadow, but the tiny sponge-tip applicator is the perfect size for creating a classic cat eye, and the color is a nice matte black that lasts.
Before you run out to get your retro lines on, though, we have a couple of recommendations for getting the most out of this product. First off, primer makes a big difference. The staying power is already good, but putting down a base keeps you from having under-eye fallout later. We also use a tissue to blot excess liner off our lids after application. It's not a must, but if you're a frequent victim of raccoon eyes, every little bit counts.
All that said, this stuff still gives us some of the fastest, cleanest lines we've ever had, and the results are just as pretty as a lot of products nearly 10 times the price. It's a bargain, and just like a similarly priced can of Red Bull, it'll give you wings.