Essie Nail Polish Holiday Collection 2011
Manicure Monday: Essie's Illustrious Effects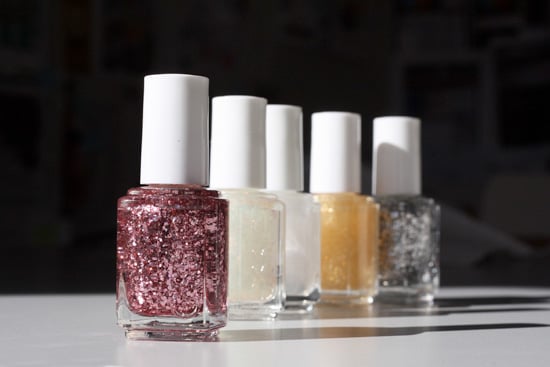 Essie's new Luxeffects holiday collection is really exceptional — there's not a single special effect coat that's disappointing or not worth your time. In fact, most of them are so pretty that it's cool to wear them without any other polish. Shine of the Times, which looks like the "fire" inside an opal, looks amazing all by itself, and it's even better with a little bit of silver glitter Set in Stones or rose glitter A Cut Above layered on the tips.
The other two shades are As Gold As It Gets, a pretty soft gilt shimmer, and
Pure Pearlfection, which gives nails a mother of pearl effect. They're great as well, but best layered over an opaque polish. As Gold As It Gets looks amazing over black, charcoal, or navy, and Pure Pearlfection is a great topper for dove gray or orchid shades.