Estee Lauder Blue Dahlia Makeup Look 2010-08-11 13:00:00
Five Days of Blue Dahlia: Day Two, Getting Bolder
As POPSUGAR editors, we independently select and write about stuff we love and think you'll like too. POPSUGAR has affiliate and advertising partnerships so we get revenue from sharing this content and from your purchase.
In an attempt to break out of the neutrals rut, I'm wearing blue eye shadow in a bevy of ways — all in an attempt to do so without being called Smurfette. Day one was a relatively tame flash of blue along the lash line. Today, however, I'm turning it up to 11, with a much more intense look. To check it out, keep reading.
So here we are! I used the turquoise color all over the lid, the cobalt shade at the outer corners of my eyes, and the dark navy shadow along the lash line. A little taupe in the crease, along with the sparkly white shadow along the brow bone, made the look surprisingly wearable for daytime. (Our office is pretty casual.) One interesting note: these bold colors look better when applied with a heavier hand. The pigment shows up more vividly and brightens the eyes more than a light dusting of shadow does.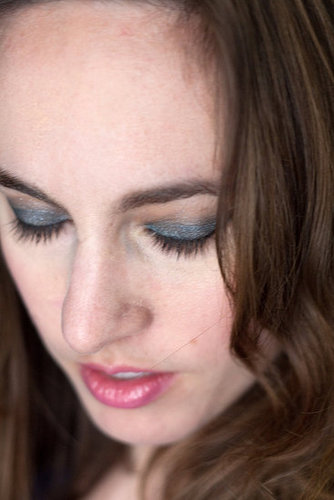 Fun fact: no mascara! The color was enough look for me.