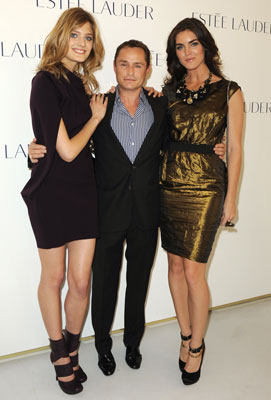 When Estée Lauder welcomes new people into its family, it does so in a big way. Spokesmodel Constance Jablonski and Creative Makeup Director Tom Pecheux are both French, so why not celebrate with a cocktail party and dinner in Paris? I was among more than 70 editors hosted by the brand at the launch of its new limited-edition Pure Color Night collection. Champagne flowed freely as style icons such as Aerin Lauder, Hilary Rhoda, and Vogue Paris editor Carine Roitfeld celebrated the launch of Pecheux's first makeup collection for the brand. L'Espace Pierre Premier was transformed into a makeup wonderland, with previews of Pecheux's forthcoming Pure Color lip glosses, eye shadow palettes, and nail polishes. It was also decorated with dreamy Frenchmen, if that's your thing. (It is very much mine.)
Why such a grand affair? This is the first time that Estée Lauder has officially attached another name to its brand, and Pecheux aims to expand the makeup's appeal to younger women without alienating its loyal fans. To that end, the three-piece Pure Color Night collection comprises a light rose lip gloss, a smoky eye shadow trio, and an illuminating face powder that is blowing my mind. (Think your skin, but with a lit-from-within glow.) Inspired by Parisian women, the collection is available almost exclusively in Paris; only a handful of units will be available at Selfridges (the Oxford Street location in London) and Bergdorf Goodman next month.
So what's next? Pecheux's fall Blue Dahlia collection hints at a sexy, sultry direction. Expect cool violet and dark blue eye shadow hues, and a lavender nail polish that was the talk of partiers young, old, and in between. And that's exactly how Pecheux wants it. "This is makeup for any woman, of any age," he told me before dinner. "A young woman might wear it, her mother might wear it — even her grandmother if she's daring." It won't be long until we find out.