Even Acne-Prone Skin Can Benefit From Oil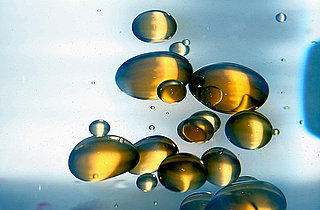 With so many products that promise to reduce skin's oil production, putting more oil on your face might seem like a crazy idea. But what sounds like lunacy can actually help your skin look and feel better — yes, even if you battle breakouts. This week, I'll share some of my favorite tips for incorporating oils into your skincare routine.
"But Bella, I already have oily skin," I hear you saying. "Why would I want to put more oil on it?" I know the concern; I've been there, too. Here's the thing, though: if you normally overload your skin with mattifying products made to reduce oil, your skin may think, "Oh, not enough oil! Time to crank up the production." Then you know what's next: mo' sebum, mo' problems. Using oils, on the other hand, can help regulate sebum production.
Over the next few days, I'll talk about cleansing and moisturizing with oils. Have questions or a topic you want me to look into? Leave a comment here.
Source: Flickr User Tétine