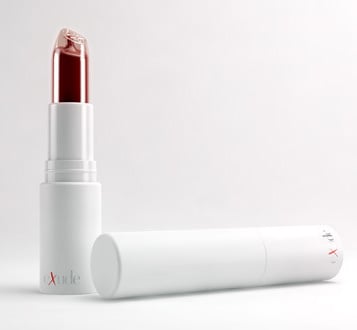 For Rachel Zoe's Spring 2012 presentation, models wore a warm, sun-kissed makeup look featuring the Nude shade from Exude's lip creme line ($29). And after wearing the same hue for a few days, I can say I'm hooked.
The applicator tip is actually not a traditional slanted lipstick. Instead, it's a crystal-clear dispenser where you control just how much or little lip color you want. And any amount that you don't need can easily be retracted back into the tube with a reverse twist. As for the formula, it's that perfect balance of gloss and lipstick, so you basically get two products in one.
The lip creme is available in nine colors, and Rachel, who is the spokesperson for the line, counts Cranberry as her favorite. The formula even includes anti-aging omega-3 and -6 fatty acids, goji berry, and vitamin E, which add a feel-good element to this cool new lipstick.