Eyebrow Tweezing Tips 2010-07-21 07:00:00
Brow Basics: 5 Tweezing Tips You'll Want to Try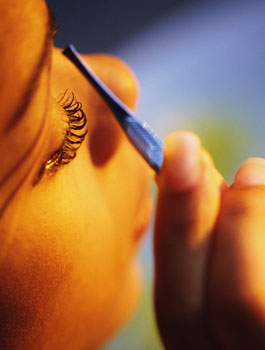 Much like it's said that the eyes are the windows to one's soul, eyebrows are the frames to one's face. And when it comes to grooming these face-framers, you might know how to pick the right shade based on your hair color, but now what's next? Check out a few indispensable tips on brow tweezing and grooming when you read more.


Shape up: Not sure where to begin? Head to a brow specialist for a professional shaping. Then, about once a week, simply maintain by tweezing strays under the brows and in between your eyes. Leave the above-the-brow work for the experts.
Take the sting out of it: Dab on a little witch hazel, a natural anesthetic, to the brow area before tweezing.
Don't be trendy: Sure, we've seen lots of shapes and styles through the decades, but for the most flattering look, skip the trends and stick with a shape that works best for you.
It's great to alternate: Instead of tweezing one brow at a time, alternate between each brow to keep the shape in check.
Trim-a-brow: Tweezing is great, but if your problem's more about getting your brows to lie flat, consider trimming instead. First, brush your brows upward using a brow comb. Lightly trim any hair that extends beyond your natural brow line. Then, do the same technique on the bottom portion of the lashes by brushing your brow hair down toward your eyes. Apply a brow gel to set.