FDA Has Not Approved Sunscreen Proposal
Why Your Sunscreen Might Not Actually Protect You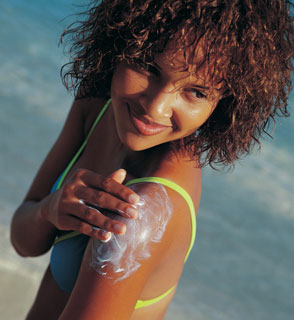 The topic of sunscreen is a hot issue as of late, and for good reason: the US is lagging behind European regulations. The guidelines for American-made sunscreens are so out of date (they were set in 1978), that the SPF number doesn't measure protection from UVA rays. That means that while you think you're protecting skin from the rays that can cause photoaging and cancer, you might not be. Or you might — there's no way to tell.
To find out what's going on, read more.
In 2007, the FDA began considering guidelines that would rate the effectiveness of SPF products at blocking UVA rays. If approved, a four-star system would show consumers how well any product protects skin. In addition, misleading claims like "all-day protection" would disappear from labels. But it's been three years, and the FDA has yet to make any decisions. Connecticut Attorney General Richard Blumenthal told the NYT that this is "largely attributable to the power and special-interest sway of sunscreen manufacturers."
The FDA aims to make a decision by October, which would put the new guidelines into place in 2012. But don't hold your breath, because that's not the only sunscreen issue on its plate. Sen. Chuck Schumer is pressuring the agency to explore the possible link between skin cancer and a common ingredient in sunscreen. Considering those two hefty issues, it's surprising to see how far we haven't come.